Overview
The Department of Electrical Engineering seeks to provide an excellent environment in which students and faculty are engaged in a comprehensive up-to-date education process of the highest quality in all aspects of computing. The mission of the department is to produce the next generation of Electrical scientists. The department strives to achieve its mission by being student centered, community engaged, and committed to academic excellence..
The Department of Electrical Engineering offers a variety of ways to concentrate in this field at the undergraduate level. We have Bachelor Engineering (B.E.) program in our institute.
Electrical Engineering department is involved in rendering quality education by offering undergraduate and postgraduate programs in Electrical Engineering.
In line with the fulfilment of vision and mission of institute by being student centred, community engaged, and committed to academic excellence. The department has been catering theoretical and practical knowledge in various fields to electrical arena like power system and design, Electrical machine and design, High voltage engineering, Electrical measurement, Power electronics and drives, Control system, Microprocessor, Instrumentation.
The department has upgraded with latest equipment, instruments and software like MATLAB, PSim; for enhancement of technical skills and competencies.
Message from the Head of Department
Welcome to the Department of Electrical Engineering at Merchant Engineering College. The Department is enriched with senior staff having Ph.D and master degree.
Our aim to offer quality Electrical Engineering Program and nurture ethics and core values in aspiring Electrical graduates.
Vision
To become a leading electrical engineering department, by developing excellent engineers, capable of fulfilling the needs of industry, society, and nation at large.
Mission
To produce competent and disciplined electrical engineers to serve the nation.
To enhance entrepreneurship skills through start-up.
Collaboration with industry through Research & Innovation.
List of Programs
| | | |
| --- | --- | --- |
| Program | Strength | Specialization |
| UG | 90 | Electrical Engineering |
| PG | 24 | Electrical Engineering |
Objectives
To prepare students for advanced technical positions in industry and for further education.
Apply the knowledge of mathematics, science, engineering fundamentals, and an engineering specialization to the solution of complex engineering problems.
To create better learning environment to develop entrepreneurship capabilities and technological empowerment of human resource.
Function effectively as an individual, and as a member or leader in diverse teams, and in multidisciplinary settings.
To generate high standards of moral and ethical values among the graduates, this will help in transforming them as responsible citizen of the nation.
To promote the exchange of knowledge and experiences between universities and industry.
To train and educate students and young investigators, as well as established researchers, in the effective use of techniques and equipment for advanced systems.
To work as partners with the Electrical industry for achieving major advances in Electrical technology.
Electrical department, has a appreciable collaboration with industrial experts and with and under their guidance department organizes various technical events.
Infrastructure
The Department of Electrical Engineering has fully equipped laboratories at Graduate levels i.e. Elements of Electrical Engineering, Circuit Network, Electrical Machine I-II-III, Electrical Power, Electrical Workshop, Control Theory, Electrical & Electronics Workshop, Basic Electronics, Analog & Digital Electronics, Power Electronics I-II, Elements of Electrical Design, Electrical Measuring Instruments, Power System Analysis Structure, Switch Gear & Protection, High Voltage Engineering, Electrical Machine Design I-II, Advance Power System I-II, Commissioning of Electrical Equipment, Project Lab.
Also Department offers Simulation Lab for subject Advance Power System with Technical Aid of Power SIM, MI Power and MATLAB well equipped with 25PCs. Department also offers the well Developed Post Graduate laboratories i.e. CORE Lab I-II-III, Modern Power System Protection, Flexible AC Transmission System, Advance Power Electronics, Power System Dynamic Control, Advance Electrical Machine, Digital Signal Processing, Artificial Intelligence and Project Lab and Workshop. Further Department is start in new PG course in Automation and Control with intake of 24 Students.
Laboratories
Electrical Machine Lab.
High Voltage Engineering Lab.
Power Electronics Lab.
Industrial Instrumentation Lab.
Electrical Measurement & Measuring Instruments Lab.
Basic Electrical Engineering Lab.
Power System and Protection Lab.
Computer Lab.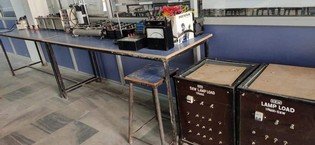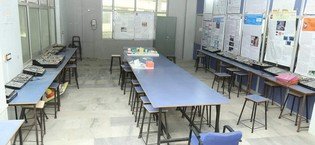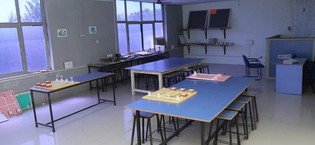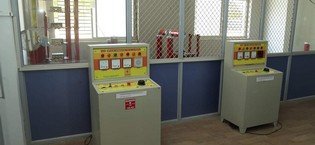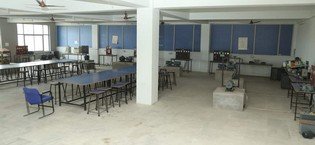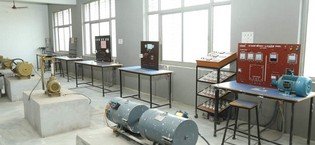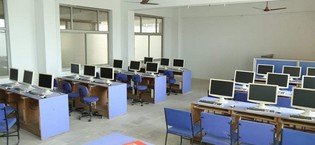 Activity
To provide industrial espouser to the students we impart 3-4 week in plant industrial training at the end of semester . We also arrange industrial visits as part of our co-curricular activity.
We seek industry-Institute linkage in following sectors
Automation & Control
Power Electronics
Electrical Drives
Power System
Power Transmission
Electrical Machine and Designing
Shipping industry
Manufacturing
Power sector
Vishwakarma Yojana:
Mr. Omprakash Rathod secured 1st rank in documentary film and 2nd rank in best project village development under the guidance of Prof. Vipul J. Patel and Prof. Chetan R. Patel.
Expert talks for technical enrichment of faculties and students:
Prof. Vipul J. Patel delivered Seminar on the topic "Steady state analysis of power system network: Load flow study" at Merchant Charitable Trust's Auditorium on 12 March 2022.
Prof. Chetan R. Patel delivered Seminar on the topic "Electrical installation: An Overview" at Merchant Charitable Trust's Auditorium on 9th March 2022.
Prof. Chintan Joshi delivered Seminar on the topic "Case study of vacuum circuit breaker with short circuit analysis at 66 KV substation using ETAP" at Merchant Charitable Trust's Auditorium on 23th April 2022.
Departmental Magazine:
Future of Electrical Engineering
This has been one of the most lucrative and competitive course to study since its inception in Indian engineering schools, colleges and universities. When India's Electrical industry created mark in world of business and gained super trust and revenue for the nation it also created large amount of well paid jobs for Electrical Engineering students.
Electrical Engineering students will learn about basic engineering techniques, as other engineering students, during first year course. These techniques include Engineering Mathematics, Physics and Chemistry, and Engineering drawing. From second year they are exposed to core Electrical Engineering science subjects electrical machine, electrical measurement and instrumentation, basic electronics, circuit networks,
This is really an excellent field to have opportunities both in Electrical industry and higher studies. As computing is extensively applied to almost every walk of life it created massive jobs for electrical Engineering students. On the same time more demand and application kept it research funding alive attracting many students to opt for higher studies.
Faculty
Dr (Mrs). Tejas Zaveri

Designation

:

Head of Department

Specialization

:

Electrical Engineering

Qualification

:

Ph. D(Electrical), M.E (Electrical Engineering), B.E (Electrical Engineering),

Experience

:

01 Years, 08 Month

Dr. Jiban Krishana Das

Specialization

:

Electrical Engineering

Qualification

:

Ph. D(Electrical), M.E (Electrical Engineering), B.E (Electrical Engineering)

Experience

:

04 Years, 00 Month

Mrs. Vaishali Y. Patel

Designation

:

Asst. Professor

Specialization

:

Power System

Qualification

:

M.E(Electrical Engineering),B.E(Electrical Engineering)

Experience

:

14 Years, 01 Month

Mr.Patel Vipul Jayvantilal

Specialization

:

Electrical Engineering

Qualification

:

B.E (Electrical Engineering)

Experience

:

11 Years , 01 Month

Mr. Mehta Rutul Rajendrabhai

Designation

:

Asst. Professor

Specialization

:

Electrical(Automation and Control)

Qualification

:

M.E.(Electrical Engineering) B.E.(Electrical Engineering)

Experience

:

10 Years, 03 Month

Mr. Raval Hardik Harshadbhai

Designation

:

Assistant Professor

Specialization

:

Electrical Engineering

Qualification

:

M.E(Electrical Engineering),B.E(Electrical Engineering)

Experience

:

10 Years, 00 Month

Mr. Patel Jatin Amrutbhai

Designation

:

Assistant Professor

Specialization

:

Power System

Qualification

:

M.E(Electrical Engineering),B.E(Electrical Engineering)

Experience

:

10 Years, 00 Month

Mr. Chaudhari Ankurkumar Dilipbhai

Designation

:

Assistant Professor

Specialization

:

Automation and Control

Qualification

:

M.E.(Electrical Engineering) B.E.(Electrical Engineering)

Experience

:

07 Years, 05 Month

Mr. Sumit R Patel

Designation

:

Assistant Professor

Specialization

:

Power System

Qualification

:

M.E(Electrical Engineering),B.E(Electrical Engineering)

Experience

:

04 Years, 01 Month

Mr. Patel Kaushikkumar Kantilal

Designation

:

Assistant Professor

Specialization

:

Power System

Qualification

:

M.E(Electrical Engineering),B.E(Electrical Engineering)

Experience

:

04 Years, 00 Month

Mr.Patel Pramitkumar Rameshbhai

Designation

:

Assistant Professor

Specialization

:

Power System

Qualification

:

M.E(Electrical Engineering),B.E(Electrical Engineering)

Experience

:

03 Years, 07 Month

Mr. Patel Rajnikant Rajendrakumar

Designation

:

Assistant Professor

Specialization

:

Power System

Qualification

:

M.E(Electrical Engineering),B.E(Electrical Engineering)

Experience

:

03 Years, 07 Month

Mr. Prajapati Shaileshkumar Vishnubhai

Designation

:

Assistant Professor

Specialization

:

Power System

Qualification

:

M.E(Electrical Engineering),B.E(Electrical Engineering)

Experience

:

03 Years, 07 Month

Mr. Krunal Manubhai Patel

Designation

:

Assistant Professor

Specialization

:

Power System

Qualification

:

M.E(Electrical Engineering),B.E(Electrical Engineering)

Experience

:

03 Years, 07 Month

Mr. Desai Kalpin

Designation

:

Assistant Professor

Specialization

:

Power System

Qualification

:

M.Tech (Electrical Engineering),B.E(Electrical Engineering)

Experience

:

03 Years, 07 Months

Mr. Pratikkumar Vishnubhai Patel

Designation

:

Assistant Professor

Specialization

:

Power System

Qualification

:

M.E(Electrical Engineering),B.E(Electrical Engineering)

Experience

:

03 Years, 06 Month

Mrs. Maheshwari Nikta N.

Designation

:

Assistant Professor

Specialization

:

Electrical Engineering

Qualification

:

M.E(Electrical Engineering),B.E(Electrical Engineering)

Experience

:

03 Years, 06 Months

Mr. Patel Sahdev Narayanbhyai

Designation

:

Assistant Professor

Specialization

:

Power System

Qualification

:

M.Tech (Electrical Engineering),B.E(Electrical Engineering)

Experience

:

02 Years, 05 Month

Mr. Sharma Jaykishan Nandkishor

Designation

:

Assistant Professor

Specialization

:

Power System

Qualification

:

M.E(Electrical Engineering),B.E(Electrical Engineering)

Experience

:

02 Years, 05 Months

Mr. Chintan K. Joshi

Designation

:

Assistant Professor

Specialization

:

Power System

Qualification

:

M.E(Electrical Engineering),B.E(Electrical Engineering)

Experience

:

00 Years, 10 Month
Non-Teaching Staff
Mr. Chirag A. Patel

Designation

:

Lab Assistant